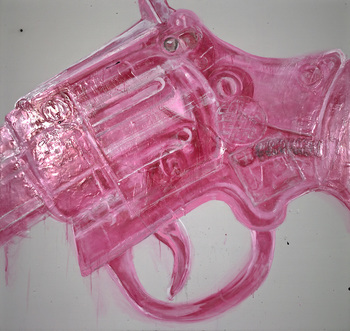 "The Pru Skyline, Boston" Series up now at the Clark Gallery, Lincoln, MA
In Beverly Rippel's diaristic series of exquisite jewel-like paintings measuring just
7" x 5" x 1.5", Boston's 2nd largest building,
"The Pru"
, emerges from her thickly
impastoed surfaces of simmering florets of intense pigment and elegantly
ridged smears of paint.
Gazing from the perch of her Boston studio window at the tower looming on the horizon, Rippel brings a fervent passion and expressive gesture to her dazzling compositions as she explores the shifting of time, light and atmosphere from one day to the next. Rippel's painting practice becomes a meditation on the ineffable qualities of the place as she experiences it. The color, light, motion, shape and texture record the narrative of how the artist feels about this architectural landmark over the course of changing seasons, months and even years.
With an edgy, jagged energy Rippel's paintings are aswirl in color with aggressively applied smears, blots, speckles and truncated daubs so colossally impastoed they create a dramatic interplay of masses. With the change of scale from something mammoth to something tiny, Beverly's 7" x 5" paintings of The Pru seemingly become powerfully alive as three-dimensional sculptural renderings with a fervent spiritual presence of a revered icon. -Dana Salvo
www.clarkgallery.com